Since I purchased Oakland Vision Center in 2007, I've really embraced the entrepreneurial spirit. I didn't learn much about running a business in optometry school, so I took some business classes and welcomed advice (good & bad) from more seasoned business owners: attorneys, architects, food truck chefs, financial planners, artists, car washers, designers and other doctors.
Recently, I contributed to Invision Magazine, one of the leading trade business magazines for eyecare. I reviewed a fabulous book about customer service, an area that I am always trying to improve at Oakland Vision Center.
I look forward to the issue arriving in the mail so I can show my mom, dad and husband. Maybe you can read the "cliff notes" and apply something to your workplace or business tomorrow. The article appears in the Feburary 2015 issue. Click here for the full article to see more business book reviews. Enjoy!
~ Dr. Gill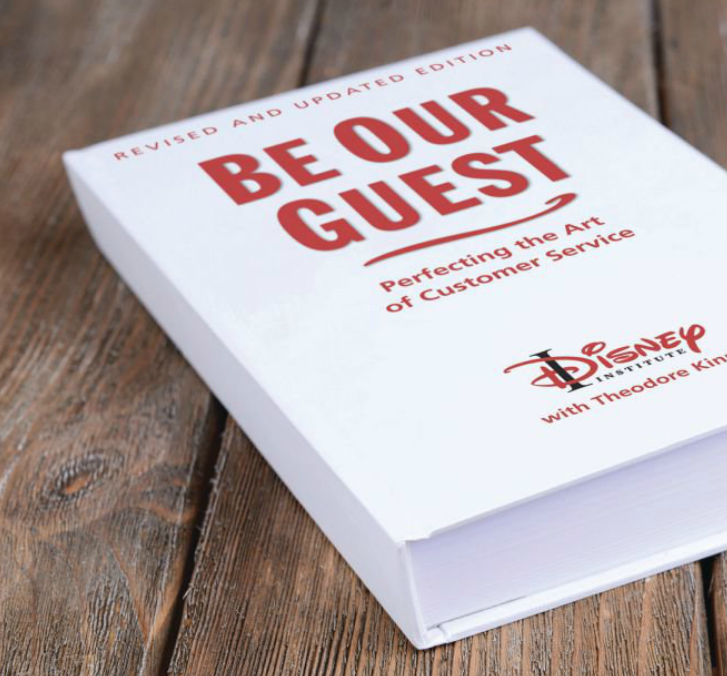 BE OUR GUEST
PERFECTING THE ART OF CUSTOMER SERVICE BY THE DISNEY INSTITUTE WITH THEODORE KINNI
Published: 2001
Summary by Dr. Tanya Gill
Dr. Tanya Gill of Oakland Vision Center in Oakland, CA, recently visited Disneyland with her young nephews and was inspired to read the Disney Institute's Be Our Guest. "Disneyland is — in fact — a magical place," she says. "How can we bring that magic into our eyecare businesses? 'Practical magic' — which is Disney-speak for customer service — is really the art of connecting all of the little pieces to make up the whole. The book takes you on that journey. Here are some of my favorite and easy-to-incorporate points."
"Disneyland is a magical place. How can we bring that magic into our eyecare businesses?"
DR. TANYA GILL
CREATE AN EXPERIENCE
We are now in a new age of competition called the Experience Economy. Frames, lenses, contact lenses and medical services are simply props to engage the patient in this new era. Patients are looking for value — but it's the value of the experience that lingers in their memory.
SPEAK TO THE HEART
We get so wrapped up in the daily tasks of our jobs, sometimes we lose sight of the bigger picture and our common purpose. I recently asked my receptionist what she did for her job. She thought about it and said "I answer phones and schedule appointments." She was correct, but when I told her "your new job description is to help our patients see more clearly," her face lit up, she smiled, and said, "Yes, that feels amazing!" Motivate people by speaking to their hearts instead of their brains.
BE FRIENDLY UP FRONT
You never get a second chance to make a first impression and it's usually your front-desk person who makes or breaks this. The Disney not-so-secret tip for providing friendly service is to hire friendly people. Make sure your front-desk staff is naturally friendly.
CLEAN SELLS
Everything speaks to customers. A cluttered office definitely gives a different impression that a clean, organized one. Think about the difference in appearance and feeling you have when you walk into an Nike store versus a Payless shoe store. Maybe it's time for a spring cleaning or a remodel?
A CAN-DO CULTURE
"My way or the highway" isn't always the best answer if you're trying to grow a business. Foster a sense of ownership and expand the pool of creative input by regularly encouraging employees to contribute ideas.
SWEAT THE DETAILS
Creating magic is a lot of work, and it's entirely dependent on attention to details. Dusty eyeglass lenses in your dispensary? A messy nest of exposed computer wires? Forgot to say goodbye and thank you to your patient as they were leaving? These are the details, and they constantly need attention.
THINK VISUALLY
Language is not always spoken. Other common languages include color, shape and form. How about painting one of those boring white office walls a bright color to make it pop? Maybe tear down an eyewear brand poster and replace it with a piece of art that shows off your personality?
OPTIMIZE THE QUEUE
Waiting too long for the doctor is usually the most common patient complaint. Although the wait in your office is never quite as long as the line for "It's A Small World," patients still get annoyed. How can we make the wait time less annoying and more entertaining or educational? Maybe Wi-Fi in reception — so people can surf or get some work done — and a Bluetooth sound system in the exam room so patients can listen to their own music while they wait?